Hot Tub Health Benefits VS Cost
If you've ever gone on vacation and stayed someplace with a hot tub, odds are you took this opportunity to enjoy a few soaks and you probably noticed some of the wellness benefits a spa provides. Perhaps you spent mornings relaxing in the spa while taking in the views or maybe after a long day of sightseeing you relaxed those aching muscles away. You may have enjoyed the experience so much that you're now thinking of purchasing a hot tub for your own home.
Purchasing the right hot tub is a significant investment, however, so weighing the many hot tub health benefits vs cost is a smart move. As you learn more about the advantages of hydrotherapy and the opportunities a hot tub at home provides to improve your personal wellness and even family relationships, you'll soon discover that it's well worth the cost.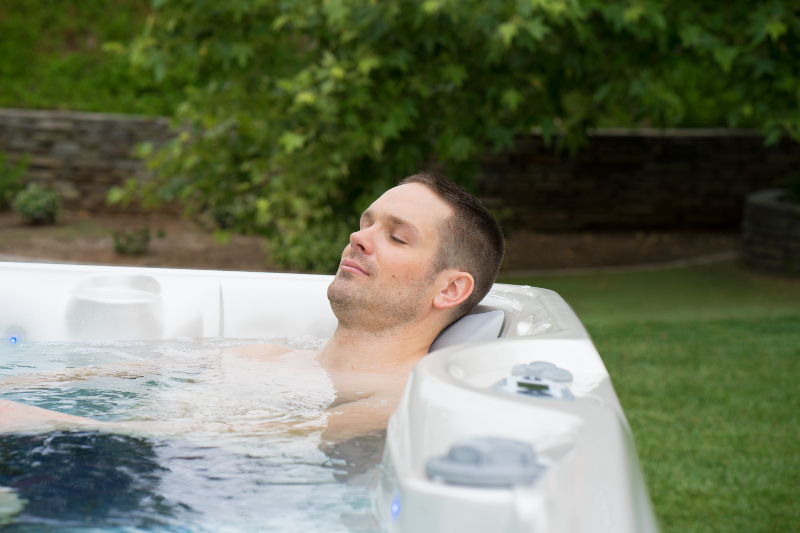 Hot Tub Hydrotherapy Soothes Body Aches
Having the perfect hot tub at your home gives you the opportunity to enjoy hydrotherapy benefits whenever YOU decide. Regardless of size, a spa's jets and pumps, combined with the buoyancy of warm water, helps relieve the pressure on muscles and loosen joints, while also improving circulation.
Even one of our smallest two-person hot tubs, the HotSpot® TX from the makers of HotSpring Spas®, is equipped with 10 jets(including the patented MotoMassage®) and a 1-HP pump, which offers hot water immersion and gentle massages across the back and shoulders and even the soles of your feet. The largest spa we offer, the Prism®, which is in our Limelight® Series, offers seven seats, including a lounger. The Prism® comes equipped with 73 jets, most of which can have the pressure independently adjusted, giving you the ability to fully customize your full body massage!
Learn more about all of our available hot tubs
Hot tub hydrotherapy is also a great benefit to everyday athletes, urban dwellers who need to take rejuvenating breaks from busy city life, and seniors who want to fend off Father Time. A hot tub can help relieve aches and pains to get you back to doing what you love—whatever that might be.
Discover the many hot tub health benefits and learn why it's hard to put a price on feeling great.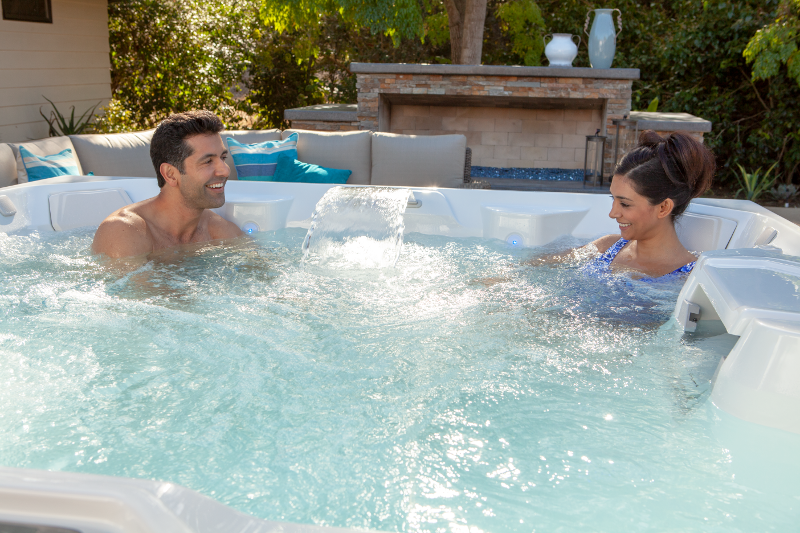 Meaningful Conversations With Loved Ones are Priceless
A hot tub at your own home means time with your family and friends without distractions or interruptions from mobile devices. It offers opportunities to catch up and renew relationships daily, whether you want to reconnect with your partner or have more open conversations with your teenager.
Older kids are often faced with peer pressure and many feel the need to live up to unrealistic expectations, and those struggles are only exacerbated by social media. Your hot tub can offer a respite and provide parents with priceless opportunities to have supportive and even life-changing conversations with their teens. There can also be something said about siblings using your hot tub together and the bonds that can be created right in your own backyard!
Your very own hot tub can also be the centerpiece of family celebrations and a private refuge used with meditation or to simply relax alone with a great book or your favorite music.
Hot Tub Cost Doesn't Have to be a Barrier to Wellness
We offer hot tubs in a variety of price ranges to try to match every budget, this is important to us because we truly believe everyone is better with hot water! Cost can vary exponentially depending on a number of factors, including size, style, performance features, and options.
For example our FreeFlow spas, which come in a variety of shapes and sizes, start under $4,000! When you begin looking at our best of the best options like the Highlife or Utopia Series spas you'll notice the price point starts higher, but you get water that's easier to maintain, a spa that's much more efficient, and just a better overall experience at the end of the day!
As you do your research, remember to consider all of the ways you'll benefit from a new spa and the years of enjoyment it will provide your family. At Thatcher, we have financing options available to help you get the hot tub you've been dreaming of!
After considering your budget and lifestyle needs, ask yourself whether it makes more sense to pay for a hot tub in full up front or to finance the spa and make affordable monthly payments over time.
Take a Test Soak to Weigh Hot Tub Benefits Vs. Price
Because a spa is a significant investment, we encourage all of our shoppers to come in for a test soak before purchasing. If you find dealers out there not willing to do this for you, be very wary, we consider this like buying a brand new car without ever taking it for a test drive, it just doesn't make sense! Taking advantage of this will allow you and every member of your family to experience all that your potential hot tub has to offer, so you can make an educated decision based on what is right for everyone!